Vote!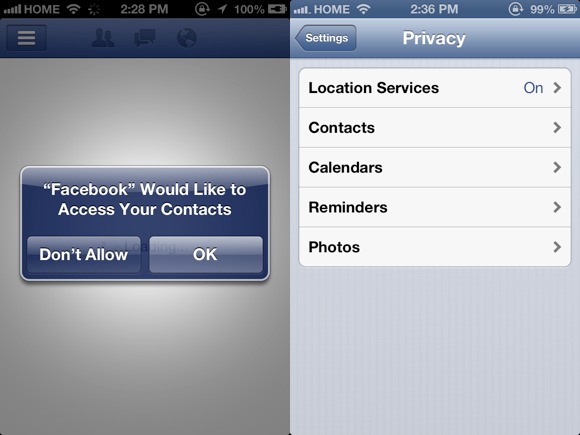 Earlier this year, Apple came under fire from consumers advocates and Congress after it was discovered that apps, most notably Path, were uploading users' entire address books to their servers without alerting users or asking for authorization. Path deleted the information, but a pair of U.S. Congressmen sent a letter to Apple asking for information on the company's data collection policies. More recently, LinkedIn came under fire for transmitting information from iOS calendar entries back to its servers in plain text. In the OS X Mountain Lion beta, Apple began...
Published By: Mac Rumors - Thursday, 14 June, 2012
Older News
Vote! Apple Details Five Patents Violated by Samsung Galaxy S4 and Google Now Mac Rumors (Today) - Last week Apple told the U.S. District Court in California that it planned to add...
Vote! Vimeo and Flickr could be integrated in iOS 7 Tech Radar (Today) - Reports have surfaced that Flickr and Vimeo will be deeply integrated into iOS 7, after...
Vote! Is Apple Really Doing Everything It Can Do To Protect Our Personal Data? appadvice (Yesterday) - In 2012, Bitdefender released an interesting new iPhone app called Clueful. For $3.99, users were able...
Vote! After Getting Booted From Apple's App Store, Mobile Privacy App Clueful Returns On Android Tech Crunch (Yesterday) - Clueful, the mobile privacy app Apple booted from its App Store for being too revealing-...
Vote! AT&T To Enable FaceTime Over Cellular For All Users By The End Of The Year appadvice (Yesterday) - In a statement provided to The Verge, AT&T has confirmed that by the end of...
Vote! With Site Ai, Automated Insights Provides A Cliffs Notes Version Of Your Web Analytics Tech Crunch (2 days ago) - Automated Insights, a startup that translates raw data into plain English, is launching a new...
Vote! AT&T to Expand FaceTime Over Cellular to All Customers by Year End Mac Rumors (2 days ago) - In a statement to The Verge on the future of pre-loaded apps, AT&T today revealed...
Vote! AT&T Will Begin Enabling Pre-Loaded Video Chat Apps, Like Hangouts, For Those On Any Data Plan Later This Year Tech Crunch (2 days ago) - As AT&T comes under the gun for blocking Google's new video chat app Hangouts on...
Vote! Top 25 Free iPhone Apps of All Time Mashable (2 days ago) - Apple's App Store recently hit its 50 billionth download. Since its launch in July...
Vote! Intel Fuels a Rebellion Around Your Data Mashable (2 days ago) - The world's largest chip maker wants to see a new kind of economy bloom around...