Vote!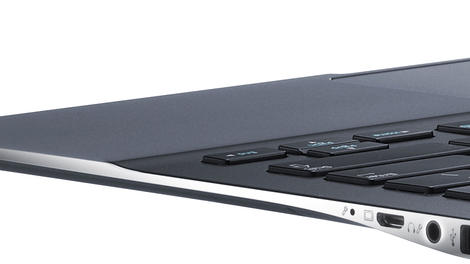 Research from the NPD Group claims that Windows notebook sales were down overall in the first five months of 2012, while sales of just Ultrabooks have risen steadily.Ultrabooks are relatively powerful, thin and light notebooks introduced by Intel in 2011 that often incorporate tablet features, such as touch screens.NPD claims Ultrabook sales are up to 11 percent of all sales of Windows notebooks that are $700 and up.The overall market for Windows notebook computers fell 17 percent, but notebooks more than $700 only fell by 3 percent, and those just...
Published By: Tech Radar - Friday, 29 June, 2012
Older News
Vote! Wisconsin Gov. Promises To Use Internet Sales Tax To Lower Income Tax Tech Crunch (2 days ago) - It sounds like a nice idea, if you don't own a calculator. The governor of...
Vote! Toshiba Kirabook review: Toshiba tries to reinvent itself with a flagship Ultrabook Engadget (2 days ago) - More Info Toshiba's Kirabook rocks a 2,560 x 1,440 display, arrives May 12th starting...
Vote! DODOcase Releases DODOnotes, A Little Notebook For Your iPhone Tech Crunch (2 days ago) - I like little notebooks. I need a place for my introspective musings. Moleskine notebooks are...
Vote! Galaxy S4 Will Pass 10M Shipments Next Week Less Than A Month After Launch, Says Samsung Tech Crunch (2 days ago) - Samsung's latest flagship smartphone, the Galaxy S4, is poised to pass 10 million shipments next...
Vote! Nintendo reports 52 percent rise in first-party 3DS software sales GameSpot (2 days ago) - 2.1 million Nintendo-published 3DS games have been sold in North America during the first four...
Vote! Samsung: Galaxy S4 sales to hit 10 million next week Cnet (2 days ago) - That's a faster sales rate than the Galaxy S3, the company's co-CEO Shin Jong-kyun said...
Vote! Wal-Mart, Kohl's Sales Drop ABC News (2 days ago) - Morning Business Memo… Some of the biggest names in shopping had a tough first quarter...
Vote! Samsung's Galaxy S 4 to hit 10 million in sales next week, says CEO JK Shin Engadget (2 days ago) - According to co-CEO JK Shin, Samsung's Galaxy S 4 will soon hit the 10...
Vote! Dell's Earnings Fall 79% as Sales of PCs Fade The New York Times (3 days ago) - As it grappled with a takeover battle, Dell said its first-quarter earnings dropped 79 percent...
Vote! Sales pitch includes Dirk's planned pay cut ESPN (3 days ago) - Dirk Nowitzki's intention to take a "significant pay cut" next summer will be part of...